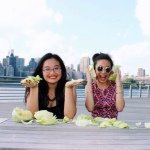 @lettucedine ?PIZZA GIVEAWAY!!!? We are giving away tickets to the first ever New York Pizza Festival happening this weekend. If you like pizza and would like a chance to win…
1. Follow us and @nypizzafestival
2. Like the photo
3. Tag a friend!
Giveaway ends tomorrow (10/5) at 12pm. We will select one winner who will receive 6 tickets to redeem for pizza there.